VISITOR EXPERIENCE INITIATIVE
The Foundation aims to enhance experiences for the park's visitors by funding programs that increase safety, improve access, and create opportunities so people enjoy their time spent in Grand Teton National Park. As millions of people continue to explore this incredible place every year, federal budgets have not kept pace and the park often struggles to keep up. It is now more important than ever to provide additional support to renew heavily used areas and increase safety for Grand Teton's visitors.
WHAT WE'RE DOING
Taggart Lake Trailhead is Grand Teton National Park's most-frequented, year-round destination and a place for all visitors to experience first-hand the beauty of this iconic national park. The popularity of the area, along with a significant increase in park visitation in the past ten years, has overwhelmed frontcountry facilities and backcountry routes.
Reimagining Taggart Lake will address resource impacts, improve parking and trailhead infrastructure, educate and engage visitors, and create new accessible hiking experiences at a well-loved and spectacular place in Grand Teton.
GROOMING IN GRAND TETON NATIONAL PARK
Are you ready to explore winter in Grand Teton National Park? We are pleased to share that for the tenth year in a row we will be grooming the Teton Park Road three times per week this season, weather permitting. The fourteen-mile track follows the base of the mountains, providing cross-country skiers, snowshoers, and walkers with access to one of the most spectacular winter destinations in the West.
WHAT WE'VE DONE TO A TETON CLASSIC
Over 350 miles of designated paths wind throughout Grand Teton National Park's 310,000 acres, providing endless opportunities for visitors to immerse themselves in the natural beauty of the Teton Range. Grand Teton National Park Foundation funds projects that enable Grand Teton to assess, plan, and execute specialized trail initiatives—ensuring that the park's incredible alpine lakes, mountain passes, and scenic vistas are enjoyed for generations to come.
WILD. SCENIC. EXTRAORDINARY.
The headwaters of one of the most remarkable rivers in the world flow through Grand Teton National Park, providing locals and visitors with endless opportunities to immerse themselves in this wild and scenic resource.
Help ensure access to the Snake River is sustainable for generations to come—support improvements at Jackson Lake Dam, Pacific Creek, and Moose Landing today!
GRAND TETON'S FUTURE DEPENDS ON YOU.
People from across the globe are drawn to Grand Teton for its beauty and year-round recreational opportunities. Visitor enjoyment and safety go hand-in-hand, however, accidents happen. The Foundation helps ensure Grand Teton's rangers are well-equipped and adequately trained so that people in need of assistance are met with the best possible response.
The Foundation's Teton Ranger program, which includes the elite team of Jenny Lake Climbing Rangers, is dedicated to advancing operations as well as volunteer programs that promote visitor protection efforts. Park rangers provide a wide-range of support to people in need. From stranded backcountry skiers in technical alpine terrain to lost hikers with sprained ankles, to assisting with vehicle accidents or searching for a missing person—this highly skilled group is always the first to respond. Grand Teton depends on them to help in situations when no one else can.
LATEST POSTS FROM VISITOR EXPERIENCE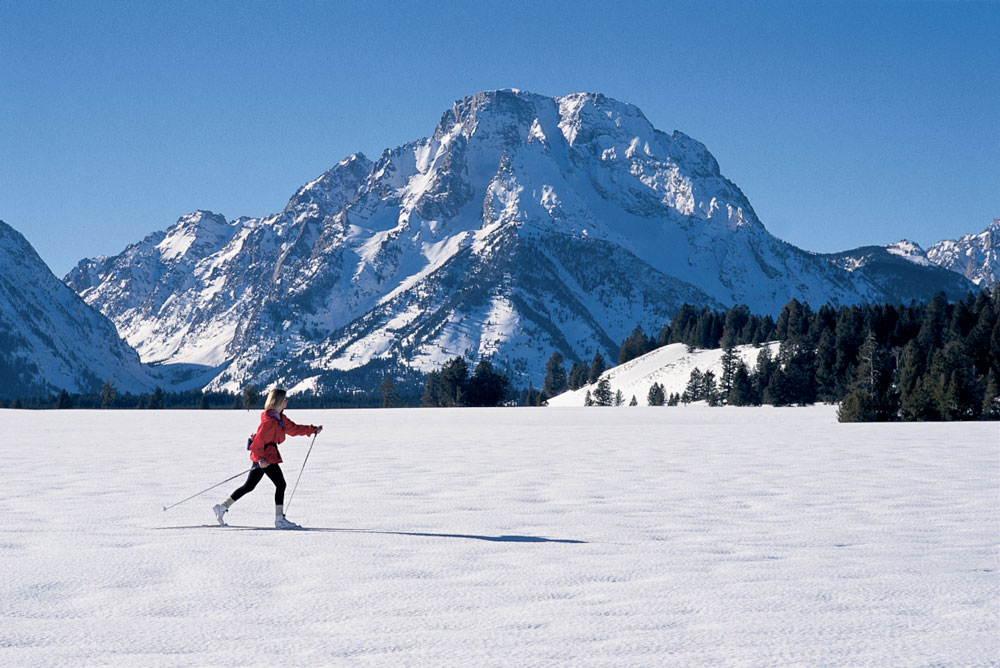 Winter in Grand Teton National Park is a magical time. For the tenth consecutive year, the Foundation is partnering with Grand Teton to groom Teton Park Road three times a week (conditions permitting) allowing visitors unparalleled access to the 14-mile ...