Grizzly bears and black bears are currently using every resource they can find to put on weight that will sustain them throughout their upcoming hibernation period. Common food sources right now range from foraging for hawthorn berries and mountain ash berries, to harvesting elk and scouting for elk carcasses. Now is a great time to get out your bear spray and review your skills. Being prepared is critical to how you respond to a potentially dangerous encounter with a bear in Grand Teton National Park.
General safety in bear country requires always being alert and aware of your surroundings. Travel in groups (don't go alone) and be sure to make noise, especially in areas of thick timber and vegetation. Have your bear spray readily accessible in a secure holster, preferably on your belt or chest strap on your backpack where you can quickly remove it in case of an emergency encounter. If you are required to use your spray, remove the trigger safety and spray in the direction of the bear. Aiming at the ground in front of the bear is recommended as this will create a low-lying cloud between you and the approaching animal.
Safety in bear country requires being alert and aware of your surroundings. Traveling with others improves your safety if you stick together. Make noise to alert bears of your presence, especially where visibility is limited or other noise (such as wind or rushing water) may mask your approach. Have your bear spray readily accessible in a secure holster, preferably on a belt or chest strap where you can quickly remove and deploy it in the event of an encounter.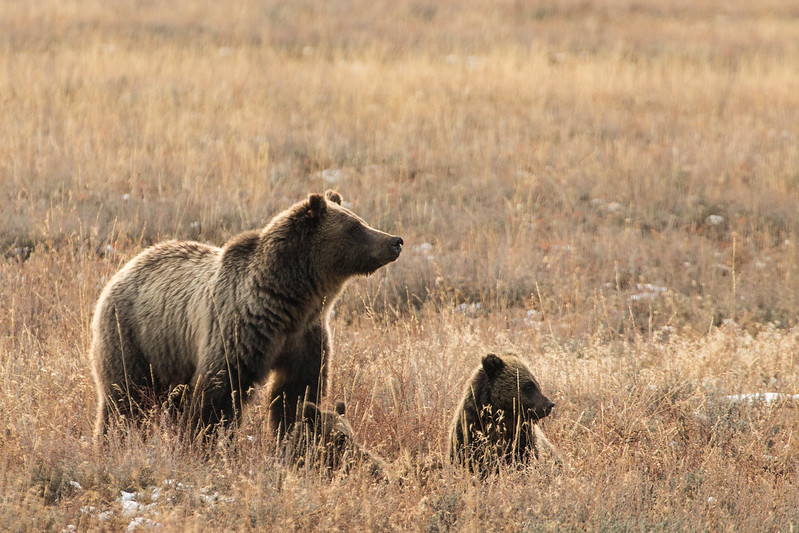 A few things to consider before heading into bear country:
Is your bear spray EPA registered? There are many self-defense pepper sprays on the market. Make sure yours is labeled Bear Spray and indicates EPA registration on the label.
Is your bear spray expired? Replace yours if it is expired!
Is it readily accessible and secure? Keep bear spray on a belt or chest harness on the outside of clothing layers, not in or attached to the side of your pack.
Can you release the trigger safety quickly? Practice with an inert can until you can safely release it quickly and without looking 100% of the time.
What is your reaction time? Most encounters occur at close range, leaving you just 2 seconds to deploy spray. Practice with empty or inert cans until you are proficient.
What will you do if you see a bear? What is your bear spray strategy? Thinking about these in advance will help improve chances for a successful outcome.
Use two hands to steady bear spray with deploying.
Trigger safety - always keep the safety on and store your bear spray properly! Most inadvertent human exposure to bear spray occurs with trigger safeties removed.
Buy the largest can possible available. Large cans spray for longer durations. Consider carrying 2 cans on multi-day trips in areas of high grizzly bear density.
Should everyone in your party carry bear spray? Yes, all adults should have their own can.
Not sure what to do with your expired or unused bear spray? Visitor centers in Grand Teton National Park, the Elk Refuge visitor center on the north end of Jackson, Teton County Recycling Center, and Jackson Hole Airport all take canisters for recycling, free of charge.
Remember, always carry bear spray when hiking in Grand Teton, and be bear aware! Stay safe out there and enjoy yourself while recreating responsibly in Grand Teton.